TRACKED VEHICLE CHASSIS KIT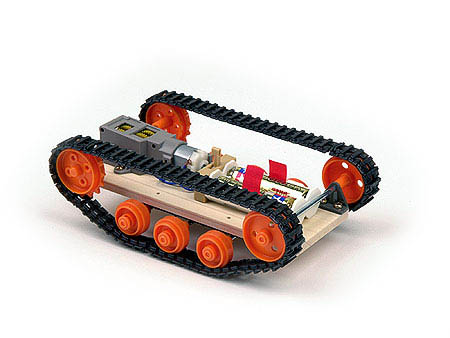 Kit is a chassis and engine portion for a military tank.
Plastic orange road and idler wheels.
Light black plastic tracks.
Pre-cut wood chassis.
Motor runs on two AA batteries (not included), which lie in a battery
case.
Gearbox runs on either normal or high speed.
Grease included for lubrication of gears.
Hex wrench and small phillips screws included.
Pictorial instructions.

INCLUDES: One Tank Tracked Vehicle Chassis Kit






SPECS: Wood Chassis: Length: 6" (15.5cm)
Width: 2-1/4" (5.9cm)
Height: 1/4" (6mm)
$28
.95
ea.

MFR# 70108
SAYAL# 2065-AG2
SKU# 211277
Store Stock Availability
Barrie:
2
Burlington:
2
Cambridge:
2
Markham:
3
Mississauga:
2
Scarborough:
2
Vaughan:
2
Warehouse:
3
Skill Level Requisite:Assembly (No Soldering)
Recommended Age:
10+ years.
---
Disclaimer:
Stock may not be available at all store locations.
Please call store location to confirm stock.
Prices subject to change without notice.
Photographs of products may not be exactly as shown.
Some products are only available from our warehouse and a minimum charge per line item on non-store items may apply.
Error and omissions exempt.