LEARN TO SOLDER KIT INCLUDES SOLDERING IRON & CUTTER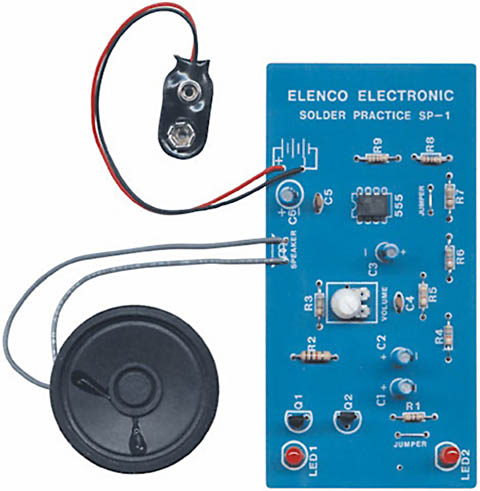 This is a Learn to Solder Kit used to learn basic soldering techniques.
You will learn how to solder on state of the art printed circuit board.

FEATURES: All electronic components are supplied (plus soldering iron and wire
cutters)
You will build a European siren with flashing lights
Learn how the circuit works
Lesson manual and self-tested booklet
No previous soldering knowledge required
Siren can be used as an intruder alarm, bicycle siren, or
attention getter.
Requires one 9V battery(available separately)Ages 10+
$23
.95
ea.

MFR# AK-100
SAYAL# 2011-HG1
SKU# 204682
Skill Level Requisite:Soldering
Recommended Age:
10+ years.
---
Disclaimer:
Stock may not be available at all store locations.
Please call store location to confirm stock.
Prices subject to change without notice.
Photographs of products may not be exactly as shown.
Some products are only available from our warehouse and a minimum charge per line item on non-store items may apply.
Error and omissions exempt.